today on ridiculous life stresses: money! and problems! and money problems! (or, why i am profoundly terrible at budgeting even though i am apparently a goddamn adult.)
this ought to be read through a lens of #firstworldproblems, because i'm no way in the gutter. i'm not affluent either, though; i'm solidly middle class, as i have been my entire life. but there have been times in my adult life when i've had more money, and times when i've had much less money, and we're sort of in the latter end of that right now, and damn if it isn't hanging over me at the moment.
this will probably be a boring blog post.
i now have two strings of those lights (i bought red ones as well), and i refuse to disclose how much i paid for them. i get a little nauseous when i think about it. but hey, they look pretty! also, i suck.
i've been thinking a lot about an article i read on
xojane
last month, wisely titled
how to avoid "i deserve it" purchases (and the consequences that come with them)
. man oh man, did the stories in that piece ever hit home for me. it examines this psychological idea that, if you've gone through periods of time in your past when you've restricted your spending, you're more likely to overindulge once you've got cash because you feel like you "deserve" things since you went without for so long.
Saying "I deserve it" is one of the biggest culprits behind failed diets—and failed budgets. You see something that you want to buy (or eat) but you don't really need, so you tell yourself no. Then that "no" starts gnawing at you and you feel deprived.
that's me to a tee. there's always things that i convince myself that i need or that i deserve to have, when really, i don't on either count. i do just fine with what i have, but something in my stupid brain says hey, no, you
totally
deserve to get that thing. you need it, don't you? (related note: i really need to stay far, far away from
red flag deals
.)
case in point: shoes. i was perusing the
payless
website a few days ago because i figured hey, i need a couple pairs of flats. but do i have the money for new shoes? no, no i do not. and so i tell myself no, but then my inner self gets petulant and annoyed that i'm depriving myself of new shoes, and reminding me that it makes me look crappy to not have decent footwear. like, these are my "give-no-fucks chucks":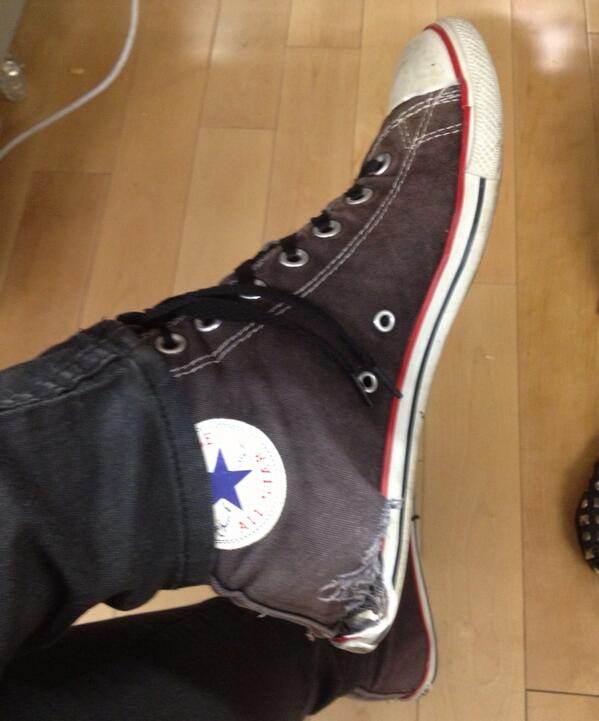 i've actually started wearing these to the office because i'm running out of options.
shoes are goddamn expensive, and mine all seem to fall apart at the same time. right now, my boots are cracking along the soles, my cross trainers are tearing, and i don't have any winter footwear. and come on, just look at my chucks, there. so now i have to figure: are new shoes
really
a priority, or can i make do with what i have for a little while longer so i can save money? (i routinely wear shit until it falls apart.)
see, it's a weird toss-up with me: either i'm blowing cash on stuff i'm convinced i need (when i don't) or i'm drawing stuff out for as long as possible to avoid spending money. my priorities are just a little bit skewed, i think.
i think the last time i really had to watch my finances was when i lived in vancouver. vancouver is crazy fucking expensive, for one, but i'd also just relocated my entire goddamn life to the other side of the country, which came with a hefty price tag. my bachelor apartment was literally a shoebox, but it was also reasonably priced (actually the cheapest rent i'd ever paid) and in a good neighbourhood (kitsilano) with a gorgeous view from the balcony, so i didn't complain. i was pulling maybe $12-13 an hour at my job running the cafe, and i tried to walk to and from there as often as possible to save money. i didn't have a tv, so i didn't have to pay for cable, instead relying heavily on my library card to get me books for free. i was lucky enough that the bank mistakenly thought i was still a student and so they didn't withdraw more than the bare minimum monthly to pay off my student line of credit. i ate the same cheap things every day -- flax cereal and half a banana for breakfast; rice cakes, carrots & celery with hummus, and yogurt for lunch; an apple for a snack; a bowl of soup & crackers for dinner or maybe a peanut butter sandwich. (i was a vegetarian at this point, which also saved me some cash. i supplemented the rest of this meagre diet with samples of the cafe's cuisine and unlimited cups of coffee.) i rarely bought any new clothes unless they came from thrift stores or could be purchased with the gift cards that my parents sent me. i didn't smoke much, drank even less, hardly ever cooked, and barely went out for the first few months i lived there. i think the biggest expense i made during that time period was my trip to los angeles in october 2007.
then i moved back to toronto, and two things happened: for one, i started a relationship (which would later lead to cohabitation and the splitting of bills); for two, i got my first real adult job (aka something that paid more than just above minimum wage). it wouldn't be until my second adult job that i actually started making
really
good coin and could finally relax the stringent budgeting habits i'd lived on since the vancouver days.
but then, of course, i swung the other way: spending too much on too many dumb things i don't need, as i've already detailed in this blog post. however, i've since left that job, so now i'm sort of back to square one: constantly struggling with my impulses and priorities and such.
my apartment is my biggest expense, obviously. but you know what? i feel like it's 100% worth it, because i fucking love my apartment. i've said it before, but it's like my own little sanctuary, here. it's bright, it's quiet, it's well-maintained, it's in a decent neighbourhood, it's within walking distance to all the good stuff. one thing it's not, though, is cheap. but with that laundry list of good points, i am okay with paying what i do for this place. hell, sometimes i feel like i got a deal.
i mean, seriously:
i
love
where i live. it is lovely. it makes me happy. full stop.
in the times when i stress too much about money and budgeting and saving and spending, i remind myself of all the things i
do
have. i have my apartment. i have my health (including a healthy cervix!), and i'm actually sleeping right through the night these days. i've started using the
lift
app as a way to track my little victories and to remind myself that i'm not a massive failure at life. i've got the holy trinity of close family, good friends, and cool coworkers. i'm okay. i'm not living in a box on the street. for the most part, i am really doing okay.
deep breaths, deeeeeep breaths. whew.
anyway, enough with the stressors -- my father will be en route to the big city tomorrow, so i better stop drinking and start cleaning my apartment now (with the leafs game on at the same time, of course). there will likely be dumb commentary and goofy photos on my
twitter
and
instagram
tomorrow, so watch for those. catch the fever! or something. later, dudes.
[ music | leafs vs. wings pregame commentary ]